With the COVID-19 pandemic showing no signs of abating, experts worry about the coronavirus joining forces with the ever-dangerous flu.
For example, Alaska is seeing a record number of COVID-19 cases, which leads public health officials to warn that the virus is likely to thrive as the weather grows colder.
For that reason, getting a flu vaccine is more important than ever this season—not only to protect yourself and the people around you, but also to help reduce the strain on healthcare systems responding to the COVID-19 pandemic.
What else should a safety-conscious caregiver (or care coordinator for a family member) do? The short and simple answer: ramp up your vigilance. As with many healthcare issues, an ounce of prevention is worth a pound of cure.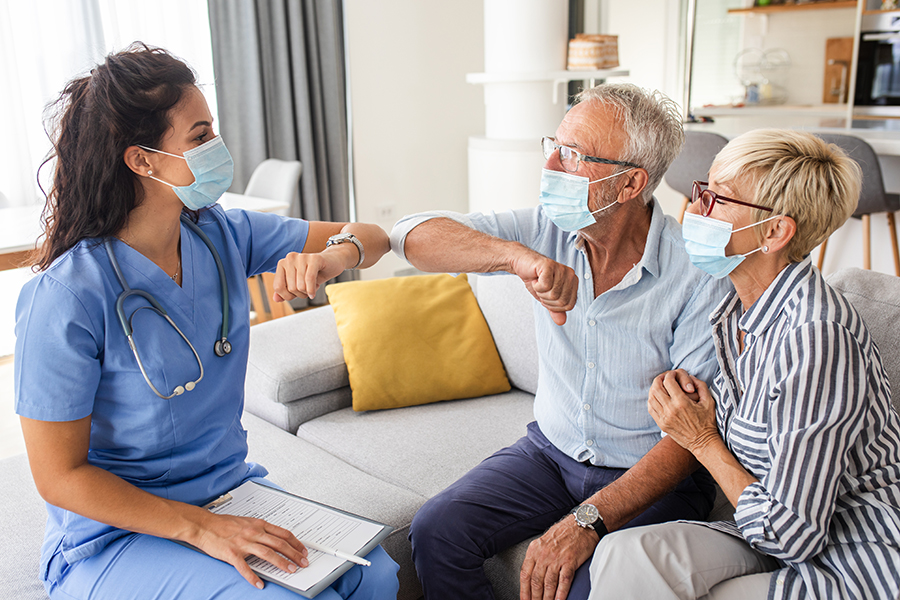 First and foremost, don't fall victim to "Corona fatigue." Keep following the safety guidelines necessitated by the not-so-new normal:
—SOURCE: cdc.gov
Wash your hands frequently.
Avoid touching your eyes, nose, and mouth with unwashed hands, and wash or sanitize your hands after touching these areas or your mask.
Stay at least six feet (about two arms' length) from other people.
Always alert your supervisor when you're sick, especially if you have a fever or cough. Do not go to work. Ask yourself: is it worth endangering the health—or even the lives—of your coworkers or the public?
Cough or sneeze into a tissue, then throw the tissue in the trash. If you get caught by surprise, cover your mouth with the inside of your elbow, and wash up as soon as possible.
Clean and disinfect frequently touched objects and surfaces—doorknobs, handrails, buttons and handles.
Wear a mask when you go out in public. Remember: your mask protects others. Be considerate!
Don't put a mask on children under age two because of the danger of suffocation. Similarly, anyone who has trouble breathing, or who is unconscious, incapacitated or otherwise unable to remove a mask without assistance should not wear one.
Avoid close contact with people who are sick. Maintain six feet between the person who is sick and other household members. If possible, isolate the sick person in a different room, preferably with separate ventilation.
What else should caregivers do?
For the several million older Americans being cared for at home, that level of social distancing may not always be possible. Their care may often require close contact for tasks like bathing, grooming, and feeding.
And as National Association for Home Care and Hospice (NAHC) President William Dombi notes, "If they don't get the care they need, they may end up in the ER, and that's not the place for them to be right now."
Be as proactive as possible, but make it a team effort.
You, your family, and your home healthcare aide should consider how they can protect those at high risk for serious complications. Even more than the general public, caregivers should avoid possible sources of COVID-19 infection such as large gatherings and enclosed areas.
It's not an exaggeration to say that care providers should isolate themselves—at least at a basic level—to protect their care recipients.
Protect yourself from bringing the virus home by carefully following the guidelines recommended above.
In addition, it's better if immunocompromised patients eat in their own rooms, not in group settings. and make sure that aides keep a safe distance when not providing hands-on care.
Consider your home healthcare agency's COVID safety policies as well. Here at Platinum Home Health Care, for example, we have implemented several safeguards to ensure the health and safety of all our patients and employees. These include:
Coronavirus information is posted to our website and regularly emailed to all field nurses, aides, and staff.
Handwashing is reinforced and facilitated via the many hand sanitizer dispensers located throughout our office—and has been added to our field nurses' equipment bags. Desks are sanitized daily.
All aides or field nurses are screened daily for any fever, respiratory symptoms, recent travel to coronavirus hotspots, or close contact with anyone diagnosed, suspected or tested for the virus within last 14 days.
Patients are regularly screened as well, to protect them and their caregivers.
For more information, NPR offers a free guide, "How To Prepare Your Home For Coronavirus," that is well worth downloading.
And just in time for the fall holiday season, here's some great doctor-approved ideas about how to have a safe Halloween.
Feeling stressed? Walk it off!
Finally, your mood—and that of your family members—is critical to managing the strain of constant vigilance and caregiving. So, take care of your emotional health, and encourage your care recipient to be as physically and mentally active as their health will allow.
For example, simply going for a walk is an amazingly effective way to ease stress and gloom. "Exposure to fresh air and natural light triggers endorphins making you feel happier, energized and more positive," says John Fawkes, NSCA-certified personal trainer and managing editor of wellness website The Unwinder. "The best part is you don't need to have expedition-like walks to get these benefits. Just a few minutes around the block is enough."
Bottom Line: You play a pivotal role in your family's health and wellbeing. Thank you for being a caregiver!